A luxurious restaurant in Beverly Hills. Red strappy dress. And close friends and family. This was all about Kim Kardashian's 43rd birthday this past weekend. But one major person was missing – her elder sister, Kourtney Kardashian.
No. Not because of a feud. But because of her pregnancy.
Amidst growing speculation, Kim took to social media to address her sister's absence, revealing that Kourtney is on bed rest due to her pregnancy.
Kim shared pictures of her birthday festivities on Instagram and alluded to her sister's absence: "So blessed to have hit the jackpot of friends! I couldn't have ever dreamed I would be so lucky to call these girls my friends ✨ thank you for all the birthday love ❤️ and Kourt I'm jumping in bed with you next week for our bed rest picnic 🎂."
Kourtney, expecting a son with husband Travis Barker, has faced several complications during her pregnancy. This came after she and Travis opted to halt their IVF treatments.
Discussing her ordeal with Vogue recently, Kourtney explained, "The first trimester was no working out, no flying on airplanes, no s*x. Then the second trimester, I could do anything. Now, I am back to all the restrictions." She also underwent a fetal surgery in September which, as she described, was instrumental in saving her son's life.
Despite the challenges, insiders convey that Kourtney feels overwhelmingly supported as her due date approaches. "Travis has been Kourtney's rock throughout her pregnancy and Kris has offered a lot of guidance too," a source informed ET.
Even though she couldn't be present at Kim's celebration, Kourtney didn't let the day pass without acknowledging her sister. Sharing a nostalgic photograph with Kim, she said, "Happy happy birthday to my first sister @kimkardashian!…I love you deeply forever and always. May God bless this year with love and happiness and abundant joy."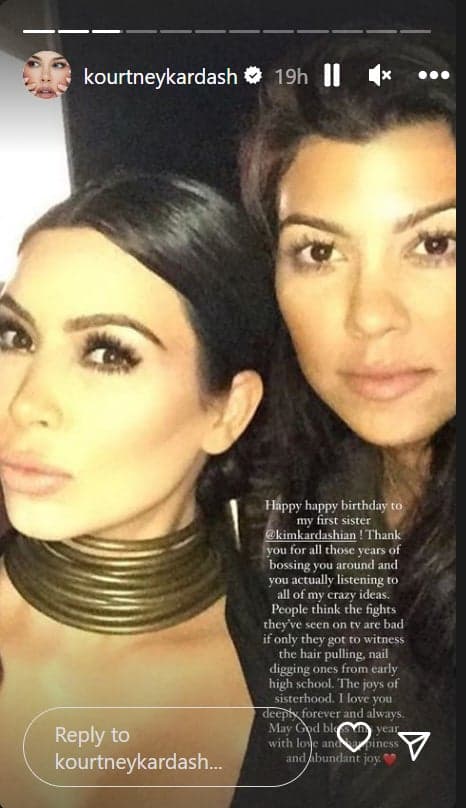 Yet, viewers of 'The Kardashians' are familiar with the dynamic between the sisters. The recent season witnessed a rather strained call between them, leading to some name-calling.
With such developments, fans are keenly observing the sisters' relationship as it continues to evolve both on and off the screen.